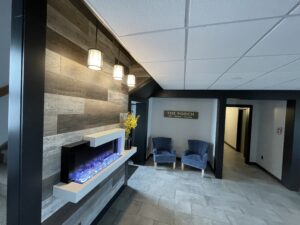 The hotel has a long history, having served as a hostel for transitory officers and visiting dignitaries such as President Dwight D. Eisenhower and British Prime Minister Winston Churchill, as well as performers like Frank Sinatra and Bob Hope.
Gerald and Doreen Snow have been putting their own stamp on this piece of Stephenville history for the past two years. The Snows bought the hotel in January 2020 and renamed it the Acadian Hotel in honor of Bay St. George's Acadian settlers.
Renovations to remodel the establishment with a more upper-scale design have been underway since 2020. The Snows have already replaced the furniture, flooring, and carpets, as well as the drywall and insulation, LED lighting, the kitchen and bar, and all of the bathroom tubs, toilets, and mirrors. We'll move on to the external work after the internal work is finished, replacing the siding, windows, and air conditioning units, as well as adding a carport to improve parking. The work is expected to be completed by the end of the summer.
"The point we're trying to convey is that it still fits in with the neighborhood. It is, however, a step up over what Stephenville's had."
By collaborating with local organizations, we hope to learn more about the area's rich past. Offer senior social events, live entertainment at Lu's Lounge and Restaurant, and a variety of other activities to keep guests and the community engaged.
"We have a lot of ideas that we'll put into action. My wife and I are both diligent workers who like what we do. We're excited to put these concepts into action in order to give a unique experience."
One of the main reasons we want to return to Stephenville is to reconnect with the community. "I figure that possessing that hotel would provide me with a terrific chance to meet people in the area."
We are within walking distance of the Dymond International Airport, Caribou Curling Club, Regional Aquatic Center, YMCA of Western Newfoundland, Sport Fields, College of the North Atlantic and many more attractions. View "Plan Your Stay" page to see some of the great must see spots or ask our knowledge staff when you are booking your stay.